Navigating through a platform to find your solution shouldn't feel like traversing through a labyrinth of data. With SureCam VTS, our platform is user-friendly and easy-to-use.
The following tabs are located on the lefthand side to help you find what you need.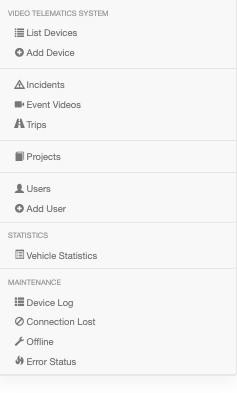 | | |
| --- | --- |
| | |
| | When selecting "List Devices" in the left-hand menu, you will get the complete list of all cameras inside your project. VTS: Labeling Devices |
| | This is the main area where you will browse triggered incidents. This is also where you will view 'high' level events, panic button ("button press") events and 'input1' triggers. |
| | In this section, you will find all the medium and high event triggered recording video files. SureCam devices will automatically upload only high G-force events, which are available in the "Incidents" tab. All other events may be requested from the device itself by clicking the "Upload" option to the right of each event. |
| | Click the checkbox next to a device on the "List Devices" page and browse to "Trips" on the left menu. Here you will see a summary of all the trips for the checked asset / vehicle, along with a list of all 'Incidents' and 'Event Videos' that were triggered during that trip. Incidents and videos can be manually retrieved here. |
| | The "Projects" tab allows you to view and update device settings across your fleet. If you have multiple accounts, you will have a list of all projects currently assigned to your login credentials. VTS: Change Project-Wide Settings |
| | The "Users" tab displays an up-to-date list of users with login credentials assigned to your account. VTS: Adding a New User |
| | If you choose to add a new user to your account, begin by selecting "Add User," and continue by filling in all the blank fields. Select 'Alert on Incident' if the user requires alerts from cameras. When complete, click "Create". |
| | We use this page to compare vehicle-to-vehicle statistics and to check how many videos we are recording on a 7, 14 or 30-day period. A score is given to each medium and high event and then weighted against the miles driven. |
| | This features all vehicle activity including GPS valid, invalid, ignition on/off as well as journey stop/starts and much more. This page is primarily used for troubleshooting and diagnosis. |
This page lists the devices which have lost connection in the middle of a trip. This can include cases where the last time a device was online, there was disconnection due to cellular connection signal lost.

Possible causes:

Cellular connection signal loss (in areas of poor cellular network / parking lots / inside covered buildings)
Camera has been disconnected (e.g., unplugged)

This page lists the devices that have not been online at all for 3 days (default setting in VTS which maybe changed by your project admin)

NOTE: This would also include cellular connection loss and camera disconnection as well

This page captures all issues related to the onboard SD card on the SureCam device.
For North American clients with additional questions about their online platform, please reach out to Support@SureCam.com to connect with an agent. For European and global clients, please reach out to CustomerServiceUK@SureCam.com for further assistance from a representative.