SD Card Removal Instructions
Pulling the SD card from your connected dash camera is a helpful way to retrieve video footage if the vehicle is no longer operational, or the time span of footage is too large for download through the online platform. The steps involved in installing and removing your device's SD card are outlined below.
Power down the camera completely by turning off the vehicle ignition. Wait until all LED lights are off before proceeding.
Loosen the screw and clip on the back of the mount, and safely remove the camera.
Open the access door located on the top right side of the power cable (please see image below).
Press down lightly on the top of the card until you hear a click, which will then release the SD card from the spring lock.
Proceed to pull the SD card out of the slot. (To prevent damage to the SD card, use caution when removing the SD slot - Damage to SD cards will resort in loss of data)
Download our PDF Guide for micro SD card removal guide below: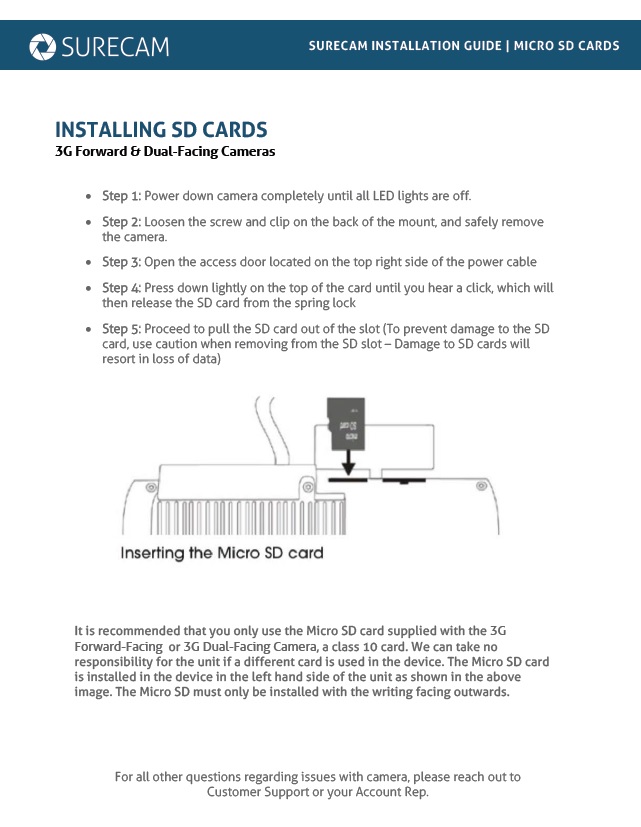 :
For additional support please reach out to Support@SureCam.com for our North American Clients or CustomerServiceUK@sSureCam.com for our European Clients and global clients.