Looking After Your Device:
We often get questions asking "Why isn't my device connecting?" or "Why is my LED light sequence off?" from clients wondering about the working order of their device. Much like our own personal health, it is important to look after the current functionality or "health" of your connected camera device while traveling over the road. Doing this ensures the proper signaling and recording of your camera so you are able to consistently receive your desired footage as incidents arise.
Fortunately, your connected camera LED lights are often a helpful indication of the health of your connected camera. Checking these regularly will allow you to quickly resolve any issues and ensure the proper functioning of your device.
Device Health Check Guidelines:
Health Check Guidelines
When checking the LED light pattern, be sure to allow your vehicle to run for 5 minutes after powering on to allow the device to connect to the network.
Please also note that all LED light troubleshooting needs to be done with access to a GPS signal and the cellular network. For this purpose, we recommend that troubleshooting is done with the vehicle outside with no signal obstruction from buildings.
The LED Light Sequence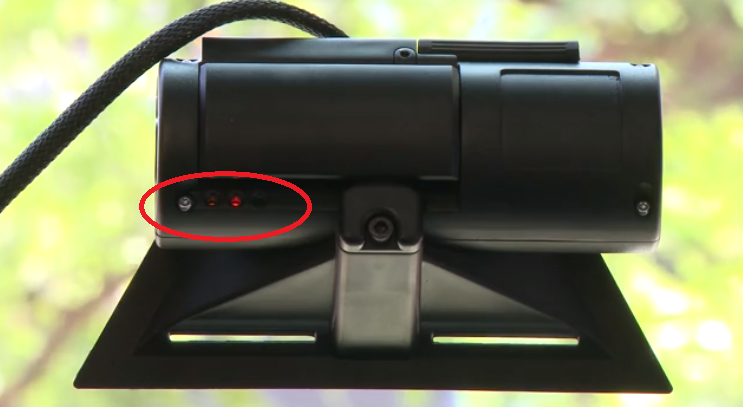 In the lower-left side of your Forward-Facing Camera, you will see a series of 3 LED lights. When functioning correctly, the LED lights will flash in the following sequence:
Solid orange LED light
Slow flashing red LED light
Solid green LED light
They indicate that your device is powered on, connected to GPS (orange LED light) and the cellular network (red LED light), and ready to record video and telemetry data (green LED light). A variance from this pattern could indicate a connectivity issue with your device.
Common variances in this pattern include slow flashing or pulsing orange/green LED light sequences, or solid holding patterns when slow flashing sequences are desired. Your driver should regularly check the LED light sequence when they reach a safe stopping point in their travels to ensure the health of their device. Detecting potential connectivity issues early can help to prevent further complications down the road.
Troubleshooting
If you notice the device LED lights are not displaying correctly during your journey, you can check out our LED Light Guide to help get a better understanding of what may be malfunctioning and how to best troubleshoot the issue.
We also suggest performing a hard reset on your device as a first troubleshooting step. If you have performed these steps and find the issue persisting, please reach out to Support@SureCam.com (US clients) or CustomerServiceUK@SureCam.com (global clients) for assistance.